Dining at Caister
Online Payments with ParentPay
At Caister Academy, payments for lunch, trips and equipment can be purchased via ParentPay.
With ParentPay's online payment management system, parents can top up their child's account at the click of a button. This also enables parents to see exactly what their children are purchasing during break and lunch.
Your ParentPay Account
You will receive your invitation to register for ParentPay when your child begins at the Academy. For new Year 7 students starting in September, parents will receive activation codes during the Transition days.
Parents/carers need to ensure their child's lunch account is topped up so it remains in credit (Low Balance Alert can be set in ParentPay under Communications – Alert Settings).
For ParentPay queries please contact enquiries@caisteracademy.org.uk
Cashless Catering System
Caister Academy operates as a cashless catering system to ensure that students can manage their accounts safely and easily; Biometric systems use personal characteristics to authenticate an individual. Students purchase their break and lunchtime items via thumbprints. Biometrics will not be taken from a child unless consent is issued by a parent or guardian.
Aspens Catering Service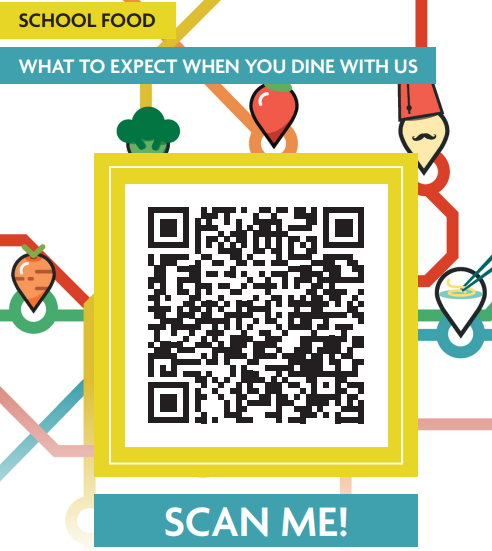 Catering at Caister Academy is provided by Aspen Services. For more information about Aspen Services, please scan their QR code or visit their website.

Breakfast Club - free for all students
Breakfast club is available every day for students between 8am-8.30am. Students can enjoy free toast alongside their peers, Monday-Thursday. On Fridays, we have recently introduced Fabulous Fridays, where students can enjoy pancakes and waffles.
Morning Break (20 minutes)
A snack menu is available during the morning break. This is not included in the Free School Meal Allowance. If your child is in receipt of Free School Meals, please ensure you top up your child's ParentPay account in order to pay for snacks during break. Alternatively, students can bring in their own snacks from home.
Lunchtime (40 minutes)
Students may bring a packed lunch from home, or they can choose from a variety of hot meals; jacket potatoes, pasta, cold sandwiches or baguettes from the Dining Hall. Check out our current Menu offer below: