Academy Day
Structure of the Academy Day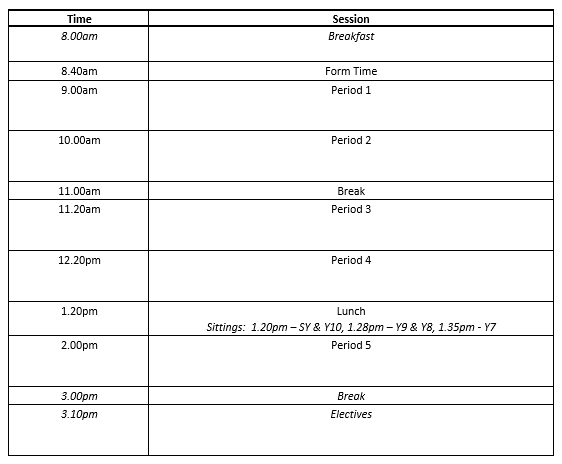 To ensure lessons start promptly a warning bell is rung five minutes before Form Time, Period 3 and Period 5.
The lunch sitting that year groups attend is subject to change, based upon cohort size and time of the year. During examinations, lunchtime for some students may be earlier in the day.
Before and after school:
Breakfast is available in the dining hall every day from 8.00am to 8.30am.

Students must be on site by 8.35am.

Electives – offering a range of clubs and quiet study spaces – are available every day until at least 4.00pm. Further details can be found on the annual enrichment schedule. There is an expectation that students in Years 7 to 10 attend at least one elective a week. Students in Senior Year attend electives in line with their personalised revision and intervention schedule. Light refreshments are available at 3.00pm for all elective attendees.